Archives for February 2019
First day of our workshop for a private group, along with Hubby leaving early to go to dialysis.
Dropped Hubby off at his dialysis clinic, then went shopping to kill some time until I picked him up again. Went out to dinner, then settled in for a quiet evening of recovery at the hotel.
Flew out of Palm Beach International, with a changeover in Charlotte, making the second half of the trip quite long, but we had a couple of nice meals, and I watched about half a movie, figuring I could watch the rest of it on the second flight, but the second flight didn't have any individual screens, and no power for my computer, so I couldn't finish it. It's a long day traveling all the way across country, even in first class, and we were well and truly tired by the time we got to the hotel.
Another Monday, another day of dialysis, combined with packing and preparing for a business trip to Las Vegas for the week, starting tomorrow. Had a great night's sleep, though, after all my weekend exertions!
Up before dawn, loaded up Flash (who I thought by now would be reluctant to get in the trailer, but he went in just fine!), and off to Jupiter Farms Park for the start of the 3rd and final day of the OTL ride. Sunday is the day that attracts the most people, and there were a lot more folks there than on the previous two days. Of course, once again they were still trying to round up people for the (now) 9:00 riders meeting, and when someone next to me asked the organizer if they could go, I went right along with them when they got their yes. I headed back out of the park the way I had come in yesterday, in first position, going on trails Flash and I both knew very well, as this was all in the area where we had been training for the last six weeks. We kept a nice pace, though I didn't push him too hard considering he's already got over 45 miles under his belt in the last two days. We stayed in the lead until just as we reached the Cypress Trails parking lot and headed north on the official OTL trail, when I was passed by a couple of tall, long-legged Arabe/Standardbred crosses, once ridden by a guy from Venezuela and the other a woman from Zimbabwe. They blew past me and I thought I would be left in the dust, but Flash decided he wanted company, even if he had to work for it, and he promptly started racing after them! No matter what pace they did, Flash stayed up with them, and if they got ahead, he'd catch up to them when they slowed down again, even after some very long stretches of cantering. Seems Flash was determined to stay with the herd! It turned out that the woman was a retired endurance rider, and she gave me some excellent tips when I told her that it was my plan to condition Flash for that. Once she laughingly joked (with an English-African accent) that Flash looked "like a little puppy following along," and it was true. Too cute! Anyway, we kept on the entire rest of the 19 miles like that, all the time I'm thinking, well, this is great practice if I want to come in 2nd or 3rd in a race, but it won't help me get a first! The last quarter mile or so we all cantered toward the finish, except my companions all pulled up about 100 yards out, but Flash was having none of that! It seems he sensed the end was near, and he wanted to reach it asap, so he kept right on going, passing up those two other long-legged critters, and once again, arriving at the checkpoint first! How's THAT for going out with style! Now THAT'S just exactly the kind of attitude I want in my future endurance horse! Once again, Hubby was waiting for me with the trailer, but as there was a lunch being served for participants, I stuck around and socialized for a while, chatting with the organizers, making a few suggestions for next year, which they were quite open to, and even managed to sell a copy copies of my horse camping book! I was very pleased that we made it, Flash and I, and was able to chalk up the experience. It was great having so much time together, and I'm looking forward to when we are finally back on the road full time and we can plan our travel accordingly. We packed up Flash and headed home, enjoying a nice quiet evening of well-deserved rest for both of us!
Another early start today. With the condition of the road at JW Corbett, it actually took us longer to travel there than to Dupuis, even though it's a much shorter distance as the crow flies. Much more relaxed today, as we have no dialysis to race to, in fact, there's nothing but this to do, so I plan on taking my time and enjoying it more. I left camp with a couple of other ladies who were organizers, and rode along a well-marked (by Corbett) trail for a long way. I finally moved off from them when they stopped to solve a shoe-loss problem (they were nice, but a bit chattier than I am comfortable with for long stretches-no offense!), and rode with just one other girl for a while. Lots of water to cross, lots of wading, then a nice canter as we pulled into the conservation camp, where a lot of people stopped for lunch. I kept going down the canal until we reached the Beeline Highway crossing, and half a dozen of us crossed at once. There wasn't anyone stopping traffic, though there were a couple of folks at the checkpoint there. There were enough gaps to make it through okay. Eventually we got into Loxahatchee Slough, where I caught up with a cowboy and his girlfriend who weren't afraid of moving out, so we did some nice cantering and trotting (for me, cordo and largo), a refreshing change from everyone else who apparently only wanted to walk the entire 21+ miles. As soon as we broke through the forest on to the canal trail on the north side of Loxahatchee Slough, which Flash knew VERY well, I could really tell he suddenly knew where he was, and knew the way home from there (even though that's not where we were going this time), but he picked up his tempo and we did a lot of moving out after that. We finally settled down for the last mile or so through the neighborhood, arriving at our end point of the Jupiter Farms Park near the arena. Hubby had already arrived, tucked away in a corner, and after checking in (I was first in camp again, just like yesterday, where I heard it was nearly an hour before anyone else arrived after me), and once again, trailered home, this time just a short ten minute drive, with a stop at Publix for essentials like ice cream :-). Got home much earlier than last night, thank goodness, and had a relaxing evening, though off to bed early, of course!
Today is the big day! Everything that Flash and I have been working towards for the last two months, it's finally here!! Got up bright and early, had a quick breakfast, then Hubby and I drove out to Dupuis WMA where the ride begins, arriving just after 8:00 as I had planned. Got Flash all saddled up and ready to go, then waited for the 8:30 riders meeting. That time came and went, then I heard it would be 8:45. At 8:50, still nothing. I knew that I was already pushing my luck with a 9:00 departure, so I found a woman who was marking up a map for someone, and explained that I needed to leave right at nine, so she gave me a copy of two separate maps, one of Dupuis and one of JW Corbett, and briefly (and rather vaguely, I thought) ran through the trails with me. In the end, she just said, "Follow the teal trail to the south end of the park," and the rest would be self-explanatory. So right at 9:00, I headed down the main road until I hit the teal trail, then followed that until it came to a dead end. Great. Nothing on the map helped me figure out where I was. I changed directions a couple of times before finally picking up a red trail that I thought was going in the right direction, but that looped back on itself. I ended up going cross country to the east, because I knew the teal trail did cross the entire length somewhere, and I was bound to pick it up. Finally, I did, but by then I'd lost almost an hour and added several miles to an already longer than expected journey. I pushed Flash hard to the south end of the park, where I met up with a couple of other organizers who were supposed to be marking the trail ahead, but apparently they left 20 minutes after everyone else did. Despite their late departure, they were still the first to arrive at the south end of the park that leads to the trail to Corbett, so evidently, I wasn't the only one who gotten lost. Grrrr! It won't matter Saturday or Sunday, but today it was critical to make Hubby's dialysis time. I headed out the trail toward Corbett, now well in the lead, and kept pushing Flash as much as I could to make up for lost time. Now there was only one trail to follow for a long time, so that made it easier. There was one water stop, but there was a cable strung between two posts we had to step over to get to it (no one had a way to remove the lock) Flash walked up on it, then backed away panicky when he struck it. I suggested to the women at the checkpoint that they put a plastic bag or something on it so that people and horses could see it, surprised that no one had already thought to make it somehow. From there it was up one canal and down another, missing another turn because of poor directions (I was told a certain number of electrical poles, but that turned out to be wrong.) I finally saw some pink ribbons, which I had seen along some of the way, and finally figured out that they must be the trail markings for the ride. Would have been nice is someone had mentioned that to me before I left this morning! Still managed to be completely lost in Corbett, again because the trail markers were not good, but fortunately, I managed to stay on trails that, according to the map, would take me to I camp. Many of the trails were under water, so we were wading a lot (thank goodness I had schooled Flash on these earlier this month!) And FINALLY arrived in camp after 2:00. I practically threw Flash in the back of the trailer after I unsaddled him, jumped into the truck, and went as fast as the crappy, pothole-ridden dirt road would let me. It was 3:00 by the time we emerged from Corbett and it's dead cell zone and called the center to let them know we would be late, ran home, dropped off Flash, jumped in the car and finally made it to Hubby's dialysis center at 4:00, an hour late, but they were very gracious about it, thank heavens. Of course, that made it a very long evening, not arriving home until 9:30, and barely had time to grab a bit and crash into bed, with the alarm set for another early morning tomorrow! Whew!
Spent the day today getting ready for the big ride this weekend. I hooked the small horse trailer up to the truck and got everything loaded into that I needed. Fortunately, we've used up just enough hay in the back to make room for one horse, so that's not a problem. I had a hard time finding out exactly where the overnight camping spot was going to be, there was nothing on any of the websites are associated Facebook pages about which campground at JW Corbett WMA was going to be the one where we were going to stop for the day. We had already gotten a couple of mis-starts on that information, first believing it was at the nature conservation camp area, then somewhere along the line we got the impression it was campsite G, until we finally, through frantic messaging with the organizers, it was confirmed to be camp area I. It shouldn't have been that much of a mystery, and it doesn't bode too well for the rest of organizer's skills, but we'll wait and see. We had already taken a drive down to Campsite G, so we knew it was just beyond that. We wanted to see how long it would take, since Hubby was going to be driving the truck and trailer on his own (something he hasn't done for months) and we needed to still be at his dialysis chair by 3:00, so time was a consideration in everything. If all goes well, though, we should make it okay!
Managed to get an early chair time for Hubby's dialysis, so I was able to drop him off, do a little running around, and still get to my weekly euchre game at the community center. I ran up to Port St. Lucie to a feed store up there that had some oral B-12 for horses, to give to Flash during the trail ride this weekend, if he needs it. The rest of the day was just another mundane day!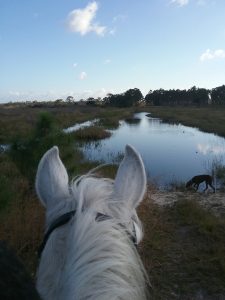 After a morning doctor appointment for Hubby, it was actually too hot to ride in the middle of the day (nothing my northern friends want to hear, I'm sure!), so I waited until around 4:00 before taking Flash on a short 5 mile ride just to keep him limber, and he did great! I think he's in as good a condition as I could get him in preparation for the upcoming Ocean to Lake Trail ride this weekend. Last week, I might have overdone it, as he wasn't to excited about taking a ride after a couple of long rides, but by today, he was raring to go, so I think we're on the right track!